Our Faculty Members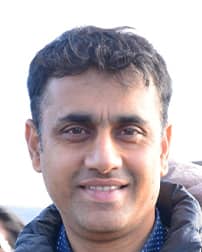 Dr. Yadav Uprety
Education : Ph.D.
Designation : Associate Professor
University : University of Quebec, Canada
Field of Study : Ecology
Dr. Yadav Uprety: Associate Professor Dr. Yadav Uprety holds Master degrees in Botany (2003) and Human Ecology (2008) from Central Department of Botany, Tribhuvan University, Nepal and Vrije Universiteit Brussel, Belgium, respectively and Ph.D. in Environmental Science (specialization: Forest Ecology and Management) from University of Quebec, Canada (2013). Dr. Uprety works at the interface of social and natural sciences. His research focuses on human-environment interactions, traditional knowledge, ecological restoration, biodiversity and ecosystem services, forest ecology, access and benefit sharing, etc. He has published over 50 peer-reviewed articles, five books, 10 book chapters, and edited two books on different fields encapsulating geographical regions from Nepal and Canada. He has completed a number of research projects funded by University Grants Commission Nepal, National Geographic Society, USA, and Rufford Foundation, UK. He worked with WWF and IUCN before joining the University.